MINERVA'S MARBLE MAP

A COMMUNIQUÉ FROM THE CITY OF BERLIN TO THE CITY OF __________________

(Originally delivered to the cities of London and New York in May 2003)

In the heart of Berlin, at the location from which the city originally grew, one can now visit a mixed huddle of buildings, some authentic but mostly either concrete-slab additions (in an endearing mock Hanseatic style) or structures moved from other parts of town, all laid out to suggest the area's original medieval street plan. The Nikolaiviertel, as this open-air-museum-cum-theme-park is called, was created during the 1980s by the East Germans as a tourist attraction in a city that has otherwise divested itself of most traces of its medieval incarnation.
Although its focus is the Middle Ages, the Nikolaiviertel is also home to several pieces of 19th-century sculpture displaced by the bombing of World War II. Besides St. George and the Dragon and Cleo, the muse of historiography, there are two marble allegories created by Reinhold Begas in 1887 for a symbolic display of military might in the Hall of Honor at the Zeughaus (arsenal): Stärke (Strength) and Kriegswissenschaft (Science of War). The latter features Minerva engrossed in a large book whose pages show the outlines of a large fortress with roads, a citadel, and other structures.
Looked at from the southwest, the Nikolaiviertel presents a 300-yard riverside flank to the Spree. If one reads it from left to right, this prospect begins with the words BERLIN – STADT DES FRIEDENS, accompanied by an outsize, flattened bronze dove, mounted on the rippled concrete facade to commemorate Berlin being named a City of Peace by the World Peace Council in 1979. At the center, St. George confronts the dragon, his spear raised in a gesture that, if carried through, would pierce his own thigh. And to the right stand the bellicose marbles, the goddess of war studying her plans and Strength ready to implement them with a mean-looking club, all watched over by two amiable sandstone lions.

So is Berlin a city of peace? Or a city of war? Or neither? Or both? War and militarism have played a major part in its history, as a Prussian garrison town, as the nerve center of the Third Reich, and as the front line in Cold War Europe. But more recently it has also been associated with anti-militarism (under Allied occupation, residents of West Berlin were not required to do military service, thus attracting certain types) and with anti-war movements, including the enduring pacifist myth of East Germany, right up to the Schroeder government's stance on Gulf War II. As Gertrude Stein writes in Wars I Have Seen (originally published 1945): "The thing that is most interesting about government servants is that they believe what they are supposed to believe, they really do believe what they are supposed to believe, which has a great deal to do with wars and wars being what they are. It really has."

Dated "1962 summer", Yoko Ono's Map Piece exhorts the reader to draw an imaginary map and use it to navigate actual streets in an actual town towards a marked goal, removing obstacles to create new streets where necessary. Strict adherence to the map is required. She also recommends exchanging such maps as gifts among friends. In the same way that it is hard to say whether a given city is a city of peace or a city of war, it may be difficult for a city to engage in such an exchange of maps. But if cities were capable of such behavior, then maybe today the City of Berlin would send the City of ______________ a copy of Minerva's Marble Map.
In Map Piece, Yoko Ono suggests: "When you reach the goal, ask the name of the city and give flowers to the first person you meet." Although this is certainly one possibility, other forms of micro-demonstration are equally appropriate. Just as one example, one might enact a scene inspired by the "Bombing for peace is like ..." placard, except it would bear the following words from Sun Tzu's The Art of War: "Troops thrown against the enemy as a grindstone against eggs is an example of solid acting on a void." Obviously, the options are endless. The placard could also bear another quote from Wars I Have Seen: "Is life real is life earnest, no I do not think so, it certainly is not real." Of course, placards may be dispensed with entirely. That's the great thing about micro-demonstrations. No one else organizes or overdetermines them for you.

YOU ARE FREE TO WALK AROUND AND EXPRESS YOURSELF. ENJOY THAT FREEDOM!



All communications from those receiving this message on behalf of the City of ________________ concerning how they used the Marble Map (accounts of micro-demonstrations, snapshots, maps, etc.) will be gladly received on behalf of Berlin by epram.org <minerva at epram dot org>.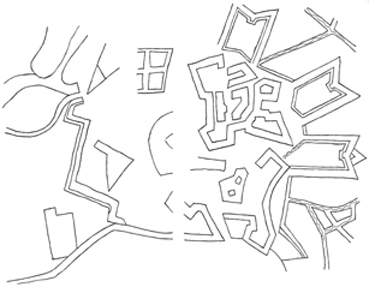 Minerva's Marble Map, copied by rubbing from Begas' "Kriegswissenschaft" in Berlin.
Actual size: 75 x 55 cm.
For a larger, higher resolution scan (550KB) click here.

"Map Piece" by Yoko Ono was given away as a free postcard at an exhibition at London's Serpentine Gallery in 2002.

"Wars I Have Seen", Gertrude Stein, Brilliance Books/Plain Edition, 1984

The full text of Sun Tzu's "Art of War" is available at various locations online.